Show Schedule: 5pm to 10pm each night


1) Disney Fantasmic 2:53m
2) I Want a Hippopotamus for Christmas by Gayle Peevey (1953).  2:38m
3) Jingle Bells by Crazy Frog (2005). 2:37m
4) Because It's Christmas by Sidewalk Prophets (2013). 3:13m
5) Little Drummer Boy by Pentatonix (2013). 4:15m
6) It's Christmas Time Again by Backstreet Boys (2012). 3:23m
7) Kiss Me Babe, It's Christmas Time by Owl City (2014). 3:49m
8) All I Want for Christmas Is You by Mariah Carey (1994). 4:01m
9) Winter Wonderland by Alexia Phillips . 1:43m
10) Christmas/ Sarajevo 12/24 [Instrumental] by Trans-Siberian Orchestra (1996). 3:25m
11) The Christmas Song by Nat King Cole (1960). 3:11m
12) Jingle Bell Rock by Bobby Helms (1957). 2:00m
13) It's the Most Wonderful Time of the Year by Andy Williams (1963). 2:31m
14) Hallelujah by Pentatonix (2016). 4:29m
15) Light Of Christmas by Owl City (2013). 3:44m
16) Mary, Did You Know? by Pentatonix (2014). 3:23m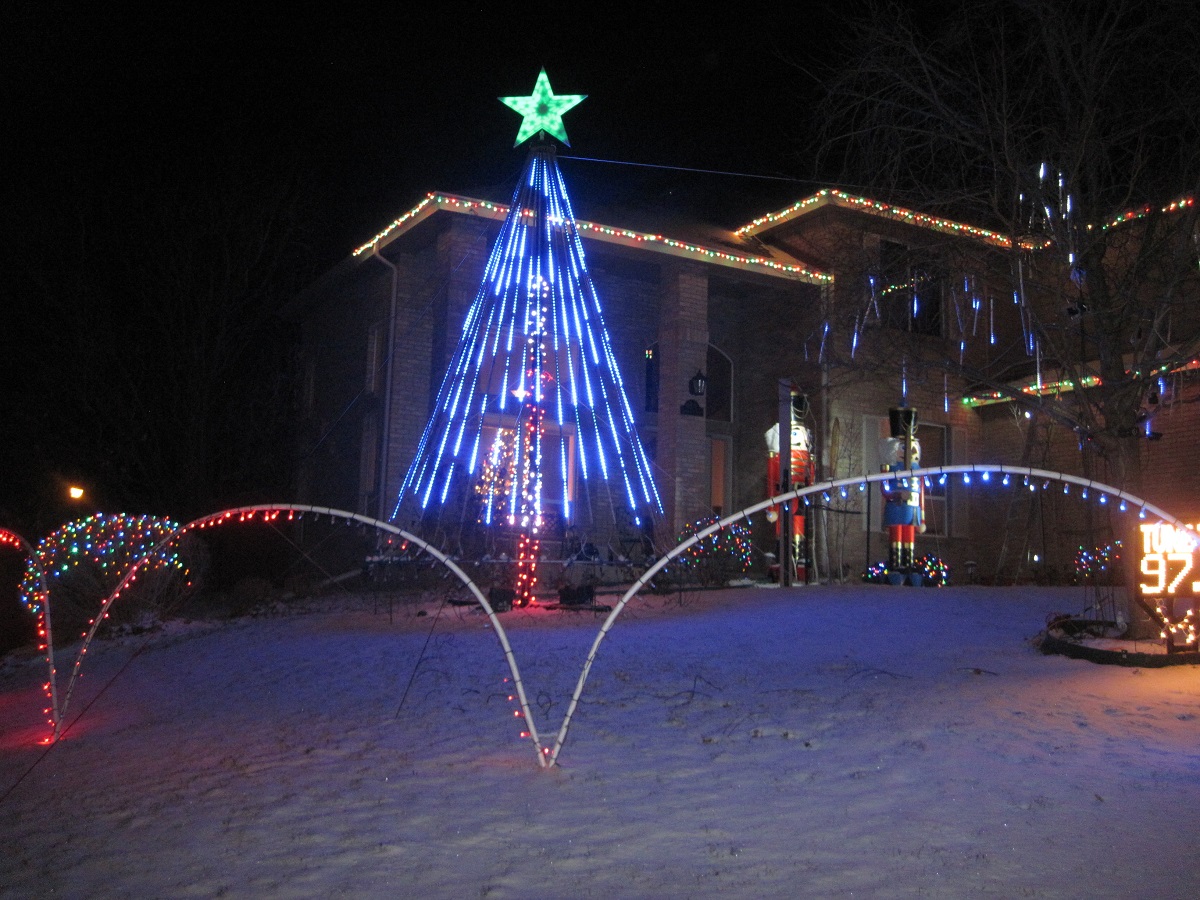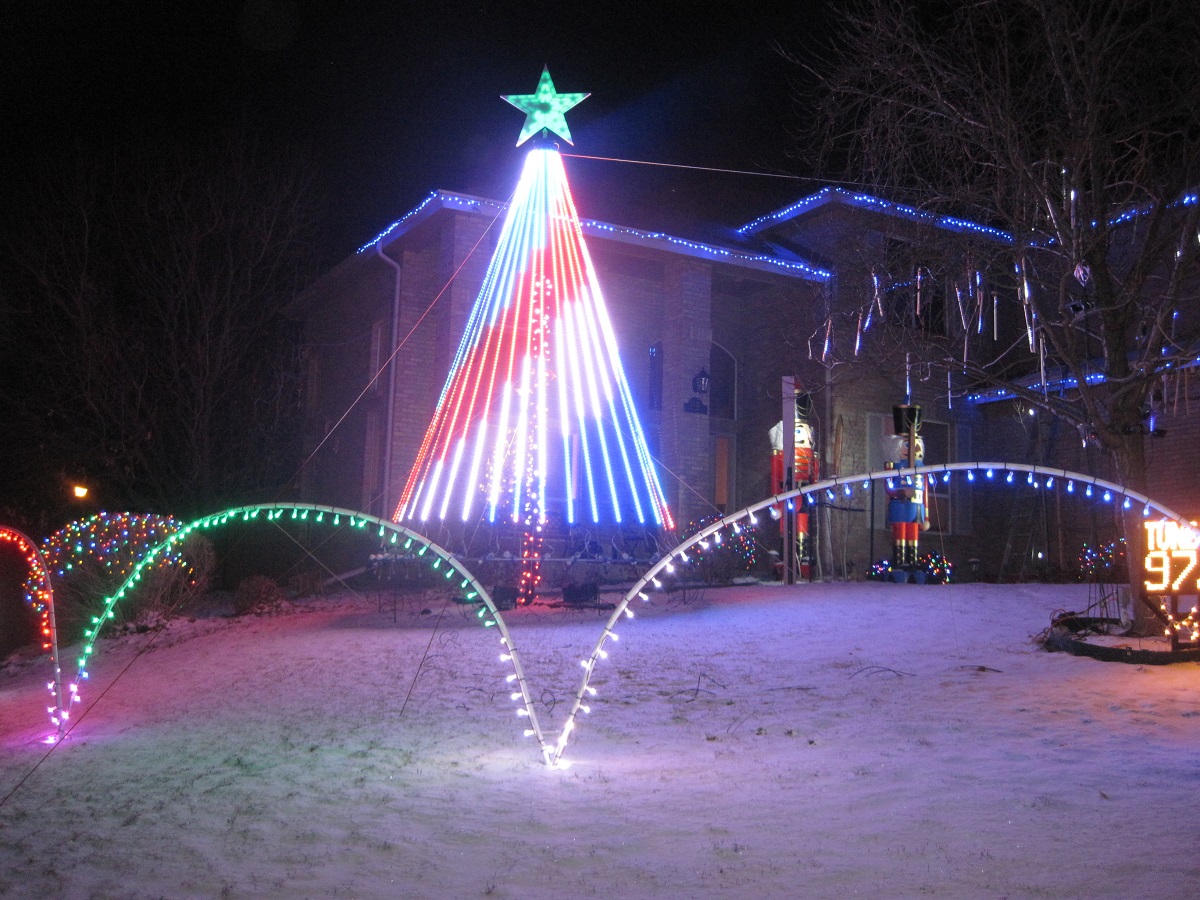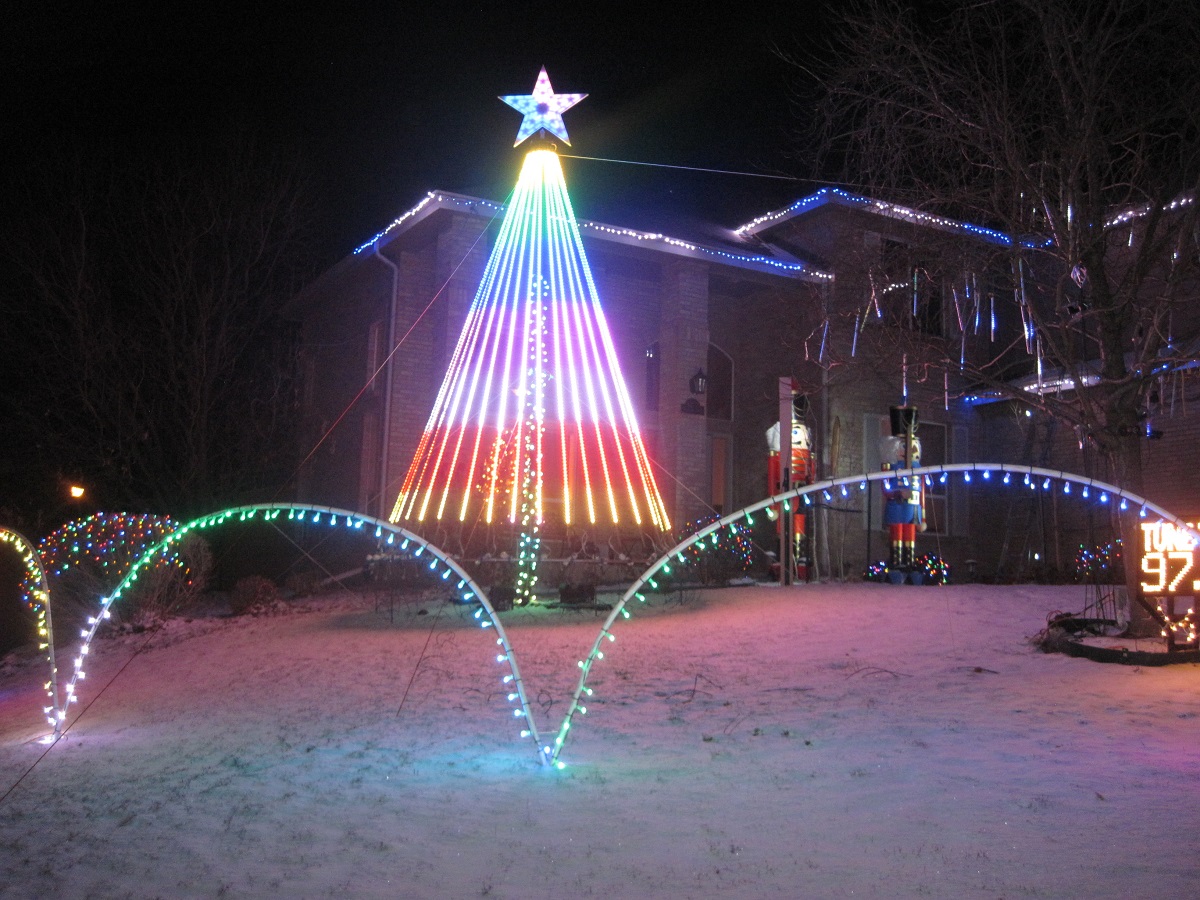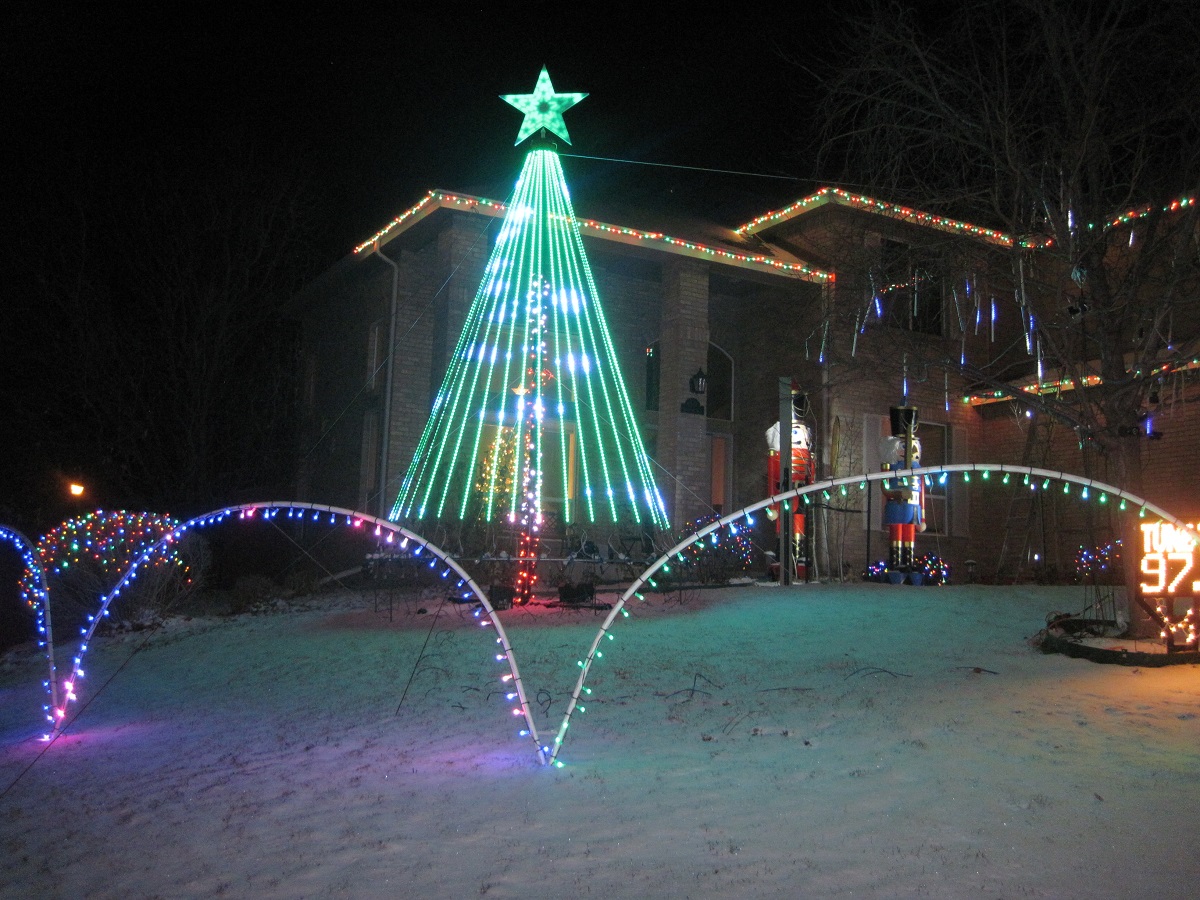 We started creating an animated light show in 2012. Almost all display elements are hand built by us. 2013 is our second year of having an animated display. If you are ever near Denver, Colorado, stop by!

			4217 Greenfinch Dr
			Littleton, CO 80126

			Merry Christmas!

			Sean, Lilia, Dennis and Alexei Meighan
			
xLights PROGRAM
The xLights software program
I am one of the developers of the software that creates animated light shows. This software is open sourced and is available free to anyone to use. It runs on Windows XP,7,8. Linux and MAC. The software can be downloaded from www.xlights.org. If you are a software developer do a google search on "github xlights"
The Nine Foot Nutcrackers
My wife, Lilia, is from the Ukraine. She decided to have a Christmas party on Dec 3,2011. She invited all of our Russian friends. The theme of the party was the Nutcracker. My twin 10 yo sons, Dennis and Alexei, asked if we could create two large nutcrackers for their mom. We told my wife to stay out of the garage for 3 weeks. She was going crazy trying to figure out what the secret project was. We revealed the project to her on Thanksgiving, 2011. She was amazed. All materials for the Nutcrackers were purchased at Home Depot.
Dec 2011, We build the Nutcrackers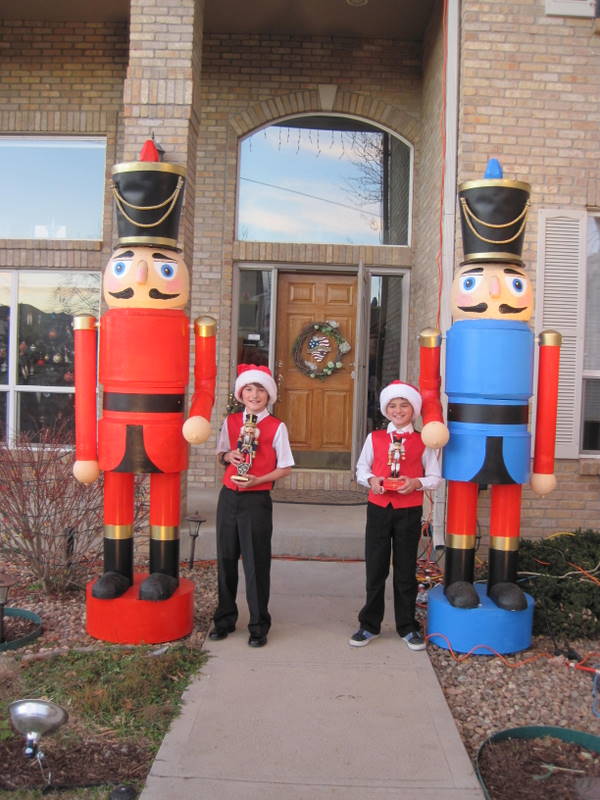 Dec 2012. Wow my twin boys have grown!
If you compare the two pictures you can see some of the details missing as we were just finishing building them. Gold braid, belt buckle, gold cuffs, braids on the boots, swords, hair (used a white rug from Walmart), finished painting the drums.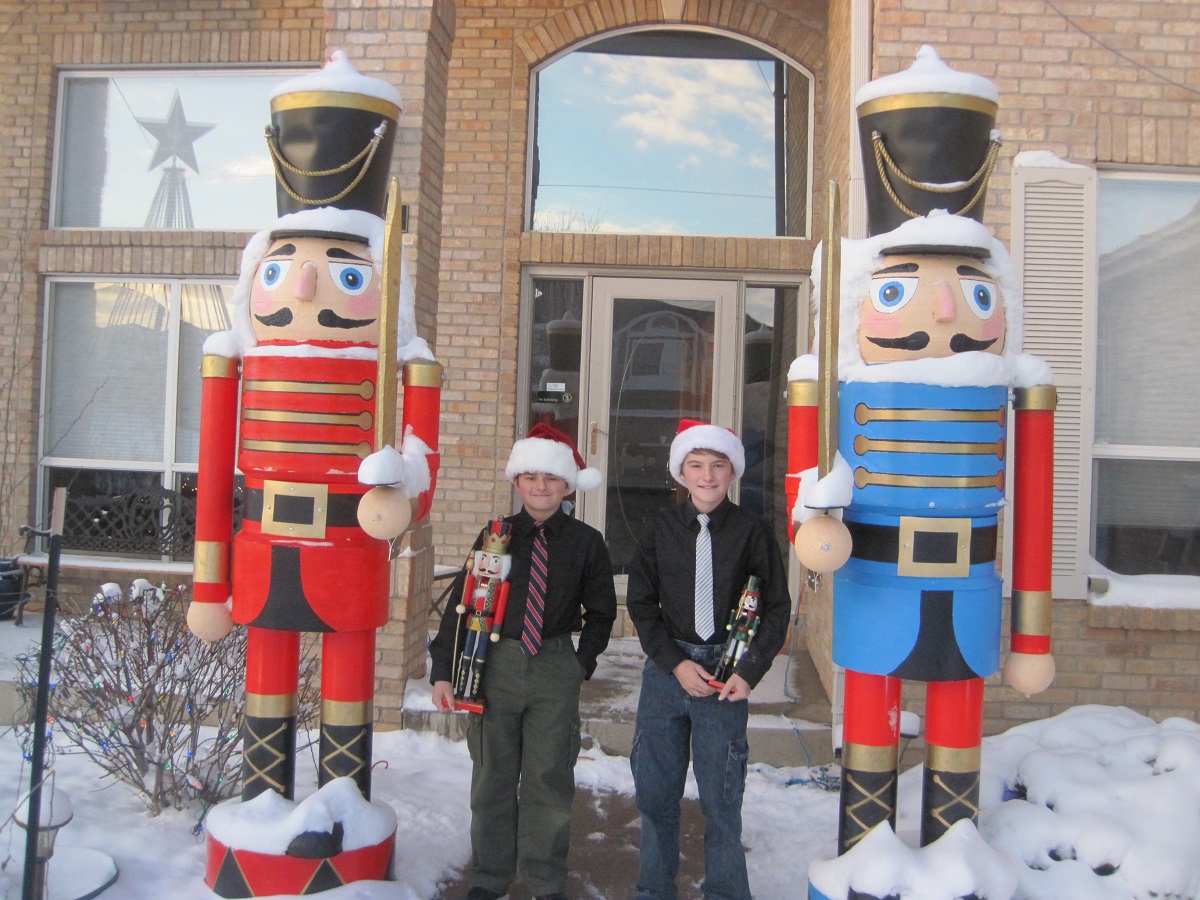 Dec 2014